Castilla-León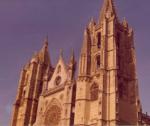 Spain's largest region is located in the northern central part of the peninsula. Its capital, Valladolid, was the (Castilian) national capital during the time of Charles V and it was here that early in Philip II's reign, in 1569, the famous Auto de Fe took place in which protestant heretics were burnt at the stake. Miguel Delibes' recent book, The Heretic vividly describes what the author, as a son of the city, considers the most significant moment in the city's entire history.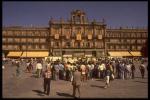 Other cities worth a visit are Burgos, birthplace of El Cid, Salamanca, with its university and cathedrals, Avila, with its walls and monastery of Saint Teresa and Segovia, with its Roman Aqueduct and the Castle which inspired Walt Disney.

In the North West of the region, a most extraordinary landscape remains the result of gold mining by the Romans. This is Las Médulas. Even earlier history has been found at Atapuerca, an archeological site of prehistoric significance.

But perhaps the most significant tourist attraction of the past few years has been The Santiago Way, a pilgrim's road to the shrine of St. James in Galicia. This route crosses the entirety of the north of the region and over six million walkers participated in all or some of the path during 2004, declared a 'Holy Year' by the Catholic Church.

Population (1/2008): 2,553,301 of whom 153,435 (6.0%) are foreigners
The churches
Membership (PTL 1997): 5,108
Churches: 99
Towns with over 5,000 inhabitants with no evangelical church: 23 (Decisión 2008) (However, there also remain over 2,200 towns and villages -or municipal groups of villages- almost all with no evangelical witness.)
List of major unevangelised towns in Valladolid province. Click on lower left hand map for other provinces.