The Basque Country, land of beauty, industry, terrorism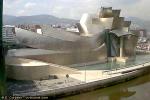 Situated on the north coast of Spain and bordering south-west France, the Basque country is indeed one of the most beautiful parts of Spain.

However, this beauty is offset by some of Spain's heaviest industry, mostly around Bilbao, as well as by the constant troubles caused by militant terrorist nationalism.

Bilbao has been selected to host the 5 Oceans sailing regatta, due to start on 5th November 2006.

For more on the Basque problem and current politics: click here

Population 1/2008: 2,155,546 of whom 116,650 (5.4%) are foreigners

The Basque economy is a great hidden asset for Spain - Daily Telegraph 14 Feb 2011
The churches
Membership: (PTL 1997) 2293
Churches: 50
Towns over 5000 inhabitants with no church: 41 of the total 251 municipalities. (Decisión 2008)
List of major unevangelised towns in the province of Alava. Click on lower left hand map for other provinces.
Evangelical Council (Spanish)
Church growth has been slow in the region and almost completely among Spanish-speaking people of non-Basque origins. However, the work of pioneer CAM missionary John Miller for many years spear-headed the effort to spread the Gospel among Basque speakers. John produced much literature in Euskera, the Basque language. Evangelical TV and radio programmes now form a small part of the regional broadcasting schedule.
More information on some of these and other church-planting projects is available directly from Evangelismo en Acción's website (Now only Spanish.)
Among the success stories of past years is the establishment of the Remar drug rehabilitation ministry, which more recently has become not only a national, but also an international ministry. Its base is in Vitoria, Alava: click here.