Introduction to Spain's regions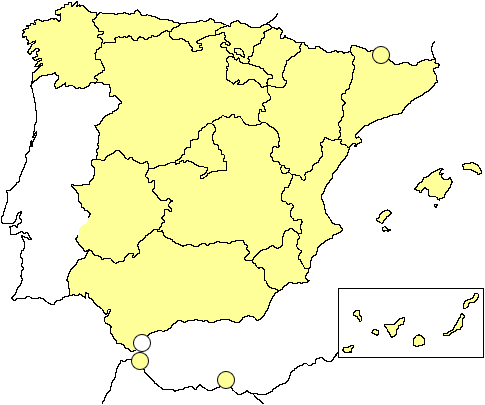 Spain has 17 regions, together with two enclaves on the North African coast and also has a special relationship with the tiny Pyrenean principality of Andorra. We include (or will soon) basic information about all these, together with a short introduction, basics about the churches and membership and, in some cases, prayer items and other comment. The tourist and other general info links are there to help you get an overview of what the region offers in terms of countryside, historic monuments, cuisine, etc.. They are not all official sites and therefore some have a wide range of advertising beyond our control!
Statistics: general population figures from the national census, November 2001; church membership for Andalusia and Extremadura from I.E.S.E.F.; and for the rest of Spain from Pocket Testament League (PTL)
Church locations and 'gaps' in the map: Table from Decision.
You might also be interested to know that Spain is divided linguistically, as well as by political regions, which adds colour as well as real differences between some of its inhabitants. The Guardian's interactive language map of Spain is a good tool to get to know some of the main language groups. The Catalan language is also split into regional varieties.
There are also links to sites with information, which could be of interest to plan visits, pray or otherwise learn about the regions. None of the links, of course, we are responsible for, but hope they will be more helpful than a hindrance!
Spanish regions clickable map by