Andalusia, the region that gave Spain its tourist image.

The name comes from the Vandals, a Germanic tribe which swept through Spain, causing suitable damage and finally settled in the Rif, north Africa.
It remains an important melting pot of cultures, with its long history of Muslim rule and the proximity to north Africa. Yet it has a very specific own culture, characterised by such things as flamenco music and dance.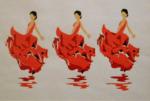 Population 1/2008: 8,177,805
of whom 615,787 (7.5%) are foreigners
Official tourist pages: Andalusia
Granada
Malaga
Seville
Brief BBC video report on flamenco festival in London.
BBC video on the return of Islam to Granada.
BBC video on archaeological dig at Cordoba palace.
The churches
Number of churches (Directorio 2006): 546
Membership (Directorio 2006): 30.018
Of the 770 municipalities, 91 have over 5,000 inhabitants, but still no evangelical church. (Decisión 2008)
List of major unevangelised towns in the province of Seville. Click on lower left hand map for other provinces.
Total churches: (PTL 1997) 332
Official churches' page (Spanish - hopefully, soon!)
Copies of the Directorio de Iglesias Evangélicas de Andalucía (Churches' Directory) can be obtained from the general secretary of the Evangelical Council: secretaria@ceaa.org.es
Some information about one mission working on the Costa del Sol, part of this region, is available here (Sorry, now only in Spanish.)
European Christian Mission is working in the province of Córdoba. Check it out
Prayer requests
The first Protestant Congress of Andalucia takes place December 5th to 10th, 2007. Pray that it will bring about unity and vision.