Castilla-La-Mancha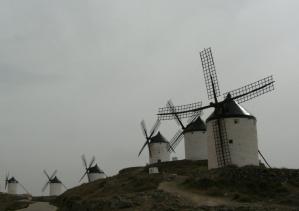 Surrounded by mountainous areas, the central part of the region is a flat plateau, occasionally broken by low ranges of hills. These are topped by the typical Spanish windmills as seen on every page of this site! The windmills were made famous by Cervantes' hero Don Quixote, most famous child of the flat La Mancha area. Cervantes' novel is all the more interesting as it was written during the reign of terror of the Inquisition but shows a good working knowledge of the Bible!

The best known agricultural produce is wine, particularly from Valdepeñas, while saffron is collected from autumn crocusses. Albacete is famous for its knives and Toledo for its inlaid metal work. The medieval city of Toledo is a must for visitors, while the hanging houses of Cuenca are also fascinating.

Population (1/2008): 2,038,956 of whom 203,847 (10.0%) are foreigners
The churches
Membership (PTL 1997): 2,666
Churches: 66
Towns with over 5,000 inhabitants with no evangelical church: 30 (Decisión 2008)
List of major unevangelised towns in the province of Toledo. Click on lower left hand map for other provinces.
La Mancha is an area well known to those in Britain with a long-term interest in the Spanish churches. It is here that the Spanish Gospel Mission was established in 1913 through the work of Percy Buffard and others. The church he established in Valdepeñas was and remains a significant testimony in the region. Many of Spain's current crop of leaders, such as Juan Simarro of the Madrid City Mission, Jose Pablo Sanchez, director of Buenas Noticias TV, which has regular programmes on TVE and Juan Ginés, an elder at a church in Madrid, were brought up under the influence of SGM missionaries and workers.
OM Spain has recently moved its national office to the region's largest city, Talavera de la Reina, whose church (originally planted by WEC) is currently pastored by OM workers Miguel Angel and Carolina Caja.