Facts and figures: the evangelical churches today
Some guesstimates at the evangelical/ protestant population at the millennium were: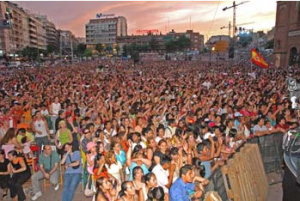 Operation World: 174,000
Decision: 300.000 (of which 100,000 adult church members)
Pocket Testament League (1997): 88,445 members

Number of inhabitants per Evangelical church member: (PTL) 457

See below for up-to-date figures.

One of the difficulties in calculating church membership or affiliation is the gypsy problem. It is virtually impossible, due to the itinerant nature both of the gypsy population at large and also of their pastors, to calculate how many there are, indeed even the total number of gypsies (Roma) in the country. The information below, gathered by Decision, barely takes the gypsy Filadelfia church into account for this reason. More info. click here!

The second problem is immigration. Of the more than 5 million migrants who have come to Spain in the past decade, many are evangelical or closer to protestantism than to any other religious group. In particular, migrants from Latin America, West Africa and Romania have swelled the numbers of evangelicals, but many have found it hard to settle in the traditional churches. As a result, many are not members of any church, while others are members of new 'ethnic churches', which are in many cases only loosely related to main-stream evangelical churches and their Federation and thus with hard-to-count membership. (A recent case which came before the writer was of a group which has some 30 in attendance, but which can count less than the absolute minimum of four members with their legal/ migration papers in order as a basis for application for registration.)

The Evangelical Federation (FEREDE) claimed in late 2008 that there may be as many as 1.4 million protestants in Spain now, including 400,000 evangelical church members and the rest being immigrants of protestant background (such as the 350,000 British ex-pats). Decision (<http://www.e-decision.org/English/ChallengeSpain07.htm#slide| February 2009>) puts the estimate at 400.000 church members, 1.2 million nominal Protestants.

Number of churches: (Decisión/PTL) 1968: 300 1998: 1,667; 2008: 2,300

Number of Municipalities (cities, groups of villages) with an evangelical church: (Decision) 923 (of those with over 5,000 inhabitants)
Number of Municipalities (cities, groups of villages) with no evangelical church: (Decision) 7,400
Number of Municipalities of over 5000 inhabitants with no evangelical church: (Decision) 367

Church affiliation (PTL, 1997):
- Pentecostal: 28%
- Filadelfia: 24%
- Brethren Assemblies: 12%
- Independent: 11%
- UEBE Baptists (SBC): 8%
- FIEDE (Free Evangelical): 7%
- Reformed churches: 5%
- Other Baptists: 3%
- Others: 2%

Missionaries: (OW)
1,266 to Spain, including 499 from USA, 149 from UK, 60 from Brazil, etc.. The proportion of Latin American missionaries grew substantially during the 1990s, but is now seriously affected by the cisis in that continent.
129 Spanish workers within Spain are considered missionaries
287 Spanish misionaries are working abroad. The number of agencies is considerable, reflecting the denominational background of the workers. Some are in national organisations, while others are with international missions and organisations, such as OM and YWAM.
More info. from Decision: